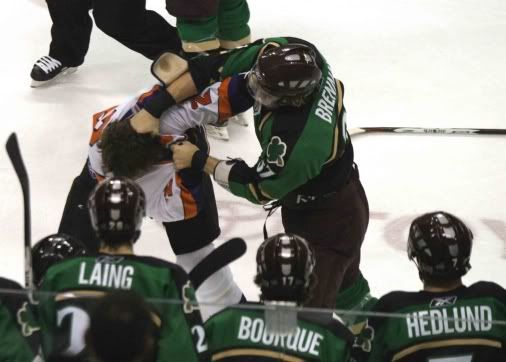 Kip Brennan is again a Hershey Bear
. Brennan began the season in Finland but was pretty much looking for the right situation here in the States to resume his career. Apparently he found it here in Hershey.
Brennan said that if the situation wasn't right he would have stayed in Finland and continued to play there but he wanted to be back in Hershey.
He was technically signed a couple days ago but had to clear waivers which he did at 10:45 this morning to officially become a Bear once again.
Why would the Bears bring back Kipper? Check this out:
He is an accomplished fighter and with Grant McNeill out for a little while longer the Bears felt they could use a guy that can take on any and all comers.
Brennan has played in 268 AHL games and 61 NHL games. In just the AHL he has amassed 1,357 penalty minutes. Many of them for dropping the gloves.
Other News:
Congratulations to Daren Machesney who was named to the Team Canada for the 2008 Spengler Cup tournament to be played in Sweden from Christmas to New Years. The only bad news there is that Cheese will miss at least 3 games while he is in Sweden. But this is an honor for him as the Spengler Cup is the second oldest hockey tournament in the world!
Maxime Lacroix and Viktor Dovgan were reassigned to South Carolina today to make room for players returning from Washington and for Brennan.
Dean Arsene practiced again this morning and is hoping to play this weekend.
LET'S GO BEARS!!!