Wow. I am thoroughly impressed after the last 2 nights. First a 6-3 win and then a come from behind 5-4 win puts the Hershey Bears only 1 point from clinching the #2 seed in the East Division and having home ice advantage for the 1st round of the playoffs.
And we won't necessarily have to wait until next weekend to see it. If Norfolk beats Charlotte tomorrow night (in regulation) it is over and Hershey gets home ice.
The Checkers have to win all three of their remaining games and Hershey would have lose 3 straight in regulation for the Bears to drop to 3rd. Tomorrow night the Checkers host Norfolk in a key game in the battle for 3rd in the East.
After watching the last 2 games I am definitely hoping to see Norfolk in the 1st round!
Last night was something. I didn't get to see the whole thing but I will be honest...I didn't think they could come back. Last year's team...absolutely. I would have EXPECTED a comeback.
But the 2010-11 version? I didn't think they had it in them.
Down 3 after 1. On the season Hershey was 3-15-1 when trailing after 1 period of play. And that is just trailing by 1 or more.
3?
Wow. 4 goals in the 2nd period and Hershey stole a victory from Norfolk.
And how about Braden Holtby?!?! Gave up 4 goals on 9 shots in the 1st and looked very flustered by the end. He comes back for the 2nd period and proceeds to shutout the Ads over the final 2 periods while facing 22 shots.
Probably his best performance in a Hershey uniform in quite some time. He has played outstanding for the Caps but in Hershey he has struggled of late. He has given up 3 or more goals in 7 of his last 8 games and 5 of those games have been 4+.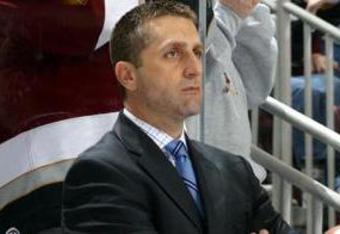 And how about Coach French?!?! What did he say to the team at the 1st intermission?? This team has folded numerous times this season when they get behind early. But down 3 and French gets them to come out swinging for the fences in the 2nd. Outstanding job!
And finally...how about Francois Bouchard!?!? No one has been harder on him this season then me. He entered the season with high expectations based on his progression the past 2 years but seemed to lack the killer instinct to take the next step in his development. Well he has turned it on of late with goals in 3 straight games and a total of 3 goals and 2 assists in his last 8 games. Not exactly MVP numbers but definitely an improvement considering he had 9 goals and 10 assists in his previous 63 games!
Last nights game was the first time in a while that they have truly played as a complete team and showed an absolute WILL TO WIN! They have backed down and folded up multiple times this year but to come back from 3 down, on the road, against a team chasing you in the standings...tells you everything you need to know heading into the playoffs.
Now it is back to scoreboard watching. The 3 teams "chasing" Hershey in the standings each played the past 2 nights and only 1 won...and they only one once. Binghamton lost twice, as did Norfolk while Charlotte lost on Friday but won last night.
More than likely Hershey's first round opponent is going to be Charlotte. They have a 5 game lead over 3rd place Norfolk and despite the Admirals still holding 2 games in hand over the Ads and Bears it is unlikely they will be able to get enough points to unseat the Checkers. Monday night is the test. A Checkers win in regulation would put it almost out of mathematical reach.
Binghamton, fortunately for them, didn't lose any ground on Norfolk this weekend but considering that they played Syracuse and Bridgeport they can't be happy with 2 losses. Tonight they get Albany before hosting Norfolk on Wednesday night with the #4 seed on the line.
Hershey is in a good place right now. Comfortably in 2nd with a week off and a possibility of 3 meaningless games next weekend.
What a weekend in Norfolk. I am definitely impressed.